by Captain Joe Greco
Justy-Joe Charters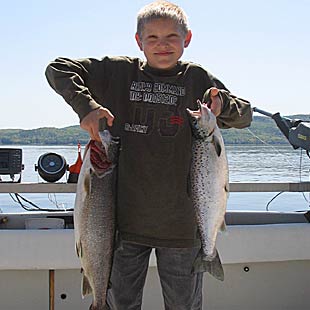 As adults, looking back, some of our fondest childhood memories involve going fishing with a friend or a relative. Fishing remains a terrific platform to connect with a youngster. In our fast-paced world, distractions such as cell phones, computers and television are part of every child's daily routine. Fishing is a wonderful means to escape such distractions, opening the door for "quality time" that we are all in desperate need of.
The Lake George region is home to several lakes, ponds and streams that offer anglers of all ability levels spectacular fishing opportunities. Our area also happens to be a great place to introduce a child to the wonderful sport of fishing.
I always recommend keeping it simple when fishing with a child, remembering that action is almost always more important than size, to most kids. Therefore, try to find an area to fish where there will be a high likelihood of success. During the summer months, there are usually good numbers of small bass, bluegills and sunfish near shore, especially in the vicinity of docks and piers. Once located, these species of fish are generally not too difficult to catch, resulting in great action for young anglers.
Live worms are one of the deadliest of all baits when targeting smaller fish and work great when fished in conjunction with a bobber. If you are a complete novice, one of our local tackle shops will be happy to get you started with some basic equipment. These folks can also point you in the right direction regarding where to fish. If you do not wish to purchase your own equipment, another option is going on a fishing charter. In addition to targeting lake trout and salmon, most local guides also offer a shorter, evening bass fishing excursion, which is perfect for beginner anglers.
Regardless of whether you choose to fish with a guide or venture off on your own, it is almost a sure bet that you will have a great time. Once you begin catching a few fish, you will be amazed at how quickly the excitement level will escalate.  If you have been contemplating taking up the sport, this is an opportune time and place to get started. More importantly, by taking a child fishing, you will be introducing them to an awesome sport that they can enjoy for the rest of their lives.