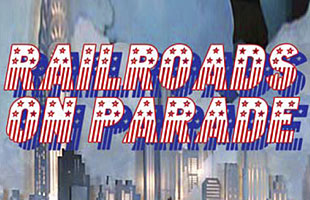 Thrill to six magical miniature worlds of model trains, a first-class journey for dreamers of all ages. RAILROADS ON PARADE is a 5,000 square foot indoor exhibit that includes the famous four season display:  THE STATION, the breathtaking 110' long HELLGATE  BRIDGE display, NYC SUBWAYS, the 1939 WORLD'S FAIR, the PRINCE EDWARD ISLAND exhibit, and NEW for 2014, THE AMAZING WORLD OF "Z."  These world-class million-dollar exhibits have been visited separately by over seven million people. The fascinating, intricately detailed exhibits, seen here together for the first time.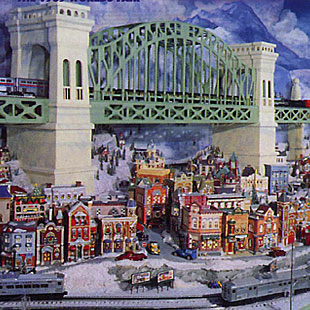 THE STATION, a holiday sensation in New York City for 20 years takes you on a fun trip along the Hudson River Route from New York City through the Catskills and into the Adirondacks with many surprises along the way including day/night lighting, neon signs, animations, and a working miniature 1950's style Drive-In movie theater. THE HELL GATE BRIDGE exhibit, originally on view in Williamsburg, Virginia, just enlarged to 110 ft., includes a fantastic 16 ft. reproduction of the famous Lionel toy train Hell Gate Bridge, high trestles, animations, and a winter scene with dozens of Department 56 collectable ceramic buildings. NEW YORK CITY SUBWAY is an upstairs/downstairs view of Manhattan with busy streets above and subways running below.  The 1939-40 WORLDS FAIR exhibit shows the iconic Trylon and Perisphere and features the famed "Railroads on Parade" exhibition with its "dancing" (back-and-forth) locomotives, (whose name we took for our attraction) reproduced in computer-controlled miniature. And the amazingly realistic 140 Square Foot PRINCE EDWARD ISLAND exhibit with its computer chip controlled trains and special buildings such as the distinctive Prince Edward Island Lighthouses and the home of "Ann Of Green Gables." New for 2014 is "THE AMAZING WORLD OF Z," a tiny, three-dimensional Z-Scale Exhibit portraying an entire City in in less than three feet of space!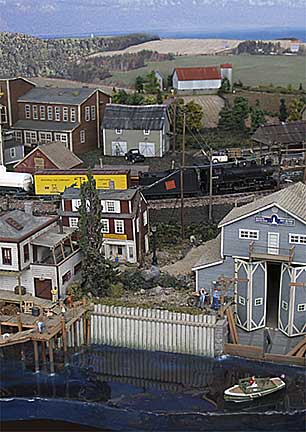 RAILROADS ON PARADE is a one-story, handicapped accessible, indoor attraction conveniently located off Exit 26 of the Adirondack Northway (I-87) – An Easy-On/ Easy Off Northway Exit – in the center of Pottersville, easily reached from either the north or south exits. The entrance is in the wonderfully restored art deco building at 7903 State Route 9. Senior Friendly. ADA Compliant.
Summer Hours: Opens Memorial Day Weekend, 2014. Weekends only until July 4th Weekend. Then Daily through Labor Day (Open Sun.-Wed.. 12-5 & Thurs.-Sat. 10-5). Weekend hours only again until Columbus Day.
Make a whole day of it and visit our neighbors at Natural Stone Bridge and Caves Park at the same time! For more information and rates, call (518) 623-0100 or visit  www.RailroadsOnParade.com
Railroads on Parade
7903 State Rt. 9 / P.O. Box 117
Pottersville, NY 12860