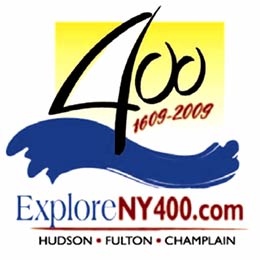 New York's 400th Anniversary is part of a quadricentennial celebration also highlighting three notables:
Henry Hudson: an English captain, explorer, and navigator who was hired by a Dutch company to search for an all-water route to Asia aboard the ship, Half-Moon, becoming the first European expedition to sail up the Hudson River that now bears his name.
French explorer Samuel de Champlain: who became the first European to discover the lake that now bears his name –Lake Champlain. He was a skilled navigator who mapped out a large portion of northeastern North America and helped establish and administer the French colonies in the New World, thus founding the settlement of Quebec.
Also part of this quadricentennial celebration is the 200th anniversary honoring inventor Robert Fulton's maiden journey on the Hudson River demonstrating that a steamboat could successfully travel from New York City to Albany, the first long-distance trip in 32 hours in 1807, heralding the start of commercial steamboat service along the Hudson River and the establishment of steam navigation.