by Carin Irwin
Parasailing Adventures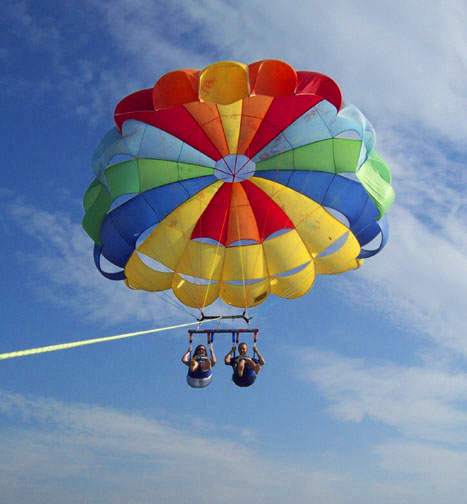 What does Lake George look like from above? Visitors who have been parasailing know! Aloft in a parachute 300′ in the air, attached with a rope to a speeding boat, parasailers have a bird's-eye view of the lake and surrounding area.
While pondering a new way to instruct fledgling skydivers, Pierre Lamoigne couldn't have known that he was making aviation sport history when in the early 1960′s he attached a parachute to his moving car and invented parasailing. In the 1970′s parasailing moved to the water, at first launching and landing the participants from the shore, and then from specially designed "winch boats." These winch boats, made specifically for parasailing, have been used nearly everywhere in the United States for decades. A motorized winch automatically releases and retracts the parasail line at a controlled speed, assuring a smooth take-off and landing right from the back platform of the boat.
Parasailing has been a popular Lake George activity for many years, using a method that was somewhat unique to the lake. Traditionally, parasailers were taken to a floating raft and pulled from the raft by a speed boat. The longstanding Lake George method then landed the passenger back onto the raft.
After having been in the parasailling business for twenty-five years, Parasailing Adventures began offering a modern ocean-style parasailing on the Lake for the first time four years ago. On any given day, their winch boats can be seen flying visitors two and three at a time side by side in a larger, brightly colored parachute. Up to ten participants at a time enjoy a speed boat ride while waiting in the boat for their turn to fly. Parasailers sit on the back platform of the boat, strapped into a harness. The parachute is filled with wind, then the winch is engaged, slowly releasing the line and lifting the flyers into the air. When the ride is complete, the winch brings the flyers back to the boat where they land gently standing up.
Widely perceived as a "daredevil" activity, parasailing is actually safe and fun for almost anyone. Parasailers must only be at least 6 years old, and there is no maximum age! Visitors describe parasailing as "peaceful" rather than frightening.
Reservations for parasailing with Parasailing Adventures can be made by calling (518) 668-9234 or 60-PARASAIL.