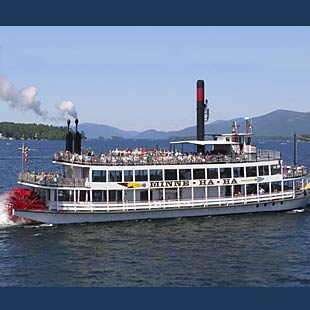 The Sternwheel Steamboat Minne-Ha-Ha, for over 40 years the most popular shoreline excursion vessel sailing on Lake George, has been lengthened (by 34 feet) and completely renovated. The "New" Minne went into service on May 29th, 1999, redesigned in several areas, always with her passengers' comfort, interest and safety in mind.
Her gangway (landing "stage" in river parlance) has been lengthened so as to allow wheelchairs smooth access to her main deck. Both men's and women's restrooms (heads) are now on the main deck and both are handicapped accessible. There is a wheelchair lift between her main and second decks.
The Minne is still one of four major sternwheel excursion steamboats in America. Her boiler has been moved forward and now exhausts up a 30 foot tall stack directly behind her pilot house. There are three antique, operating steam whistles mounted on her stack, including a 115 year old three-bell chime Lunkenheimer steam whistle. This whistle was originally on the 1912 Corps of Engineers sternwheel "Iroquois" on the Ohio River. And, as always, there is a steam calliope concert before each trip boards. Other attractive features are: a platform right inside her engine room where passengers can stand and watch her engine operate; a whistle light on top of her pilot house from a turn-of-the-century New York harbor ferry boat; a 100 year old manual capstan for raising her anchor; and a large "deck bell" (cast in Troy, New York in 1844) formerly mounted over the pilot house of the lake boat "Horicon I" (1877-1911) and now mounted over the Minne's pilot house.
The Minne-Ha-Ha continues to operate her ever-popular one hour lakefront cruises. Her additional length gives her a large second deck. Her greater deck area now provides a better viewing platform for her ever popular evening Fireworks and Saturday Moonlight sailings.
The Minne-Ha-Ha is located at the Lake George Steamboat Co.
Steel Pier, 57 Beach Road
Lake George Village, NY  12845
(518) 668-5777, ext. 4
For more information on the Lake George Steamboat, Co – see below under Related Businesses; and to read more about the Lac Du Saint Sacrement and Mohican (other cruise ships) – see below under Related Pages.