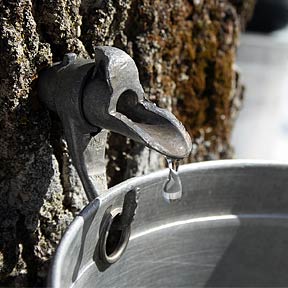 Enjoy maple sugaring in 2015! During the month of March, various maple and sugar houses in the Lake George/ Adirondack region open their doors to the public so anyone can experience the making of maple syrup! Tour these sugar house farms and don't' miss out on this amazing opportunity to see how the sap from New York maple sugar trees is tapped, collected, and then boiled to make pure maple syrup and sugar…. nature's sweetest gift!
Did you know… that the maple tree is the Official New York State tree?
---
Up Yonda Farm Environmental Education Center
This wonderful 73 acre Adirondack farm boasts incredible views of Lake George, nature programs, natural exhibits, guided hikes, wooded trails, perennials gardens and so much more. Families can learn about the process of maple sugaring this March 2015, so be sure not to miss the following events. Up Yonda Farm is located on Route 9N in Bolton Landing. www.UpYondaFarm.com
• Maple Sugaring at the Farm –  Select Saturdays in March 2015
March 7, 14, 21, 28, 2015… Learn how sap starts to flow from the maple tree and discover the maple sugar basics at Up Yonda Farm. Tap, collect and boil the sap from maple trees on the farm's property. 1-2pm each Saturday afternoon.
---
New! Sweet Maple Menu Days
Local Restaurants & B&B's are making & sharing their favorite Thurman Maple Recipes!
See where to eat great local maple dishes.
---
Thurman Maple Days 2015
Take the family along to tour maple sugar house farms & enjoy special maple sugaring season events in the Town of Thurman during three March weekends in 2015:  March 14-15, March 21-22, March 28-29. Also visit a cheese farm & llama farm while on the tour! Find summarized info below. For more complete info, visit: Thurman NY Maple Days website.
Thurman Maple Days events:
• Thurman Maple Sugar Party
March 14, 2015 – Enjoy an all-you can eat buffet with old-fashioned jackwax and entertainment by local musicians; benefits American Cancer Society. From 4-9pm in the Thurman Town Hall, Athol.
• Pancake Breakfast – Weekends in March
During Thurman Maple Days in March, enjoy a real pancake breakfast with pure maple syrup 9am-1pm, located at Valley Road Maple Farm (190 Valley Road, Thurman).
• Sugar House & Farm Tours (10am-4pm) in the Thurman Region:
1. Adirondack Gold Maple Farm
74 Bear Pond Road, Thurman
www.AdkGoldMaple.com
– An old fashioned sugarhouse that has 700 taps, family activities, and maple products to enjoy. Families can enjoy weekend activities including demonstrations, showshoeing, maple tastings, and more!
2. Hidden Hollow Maple Farm
321 Dippikill Road, Thurman
www.HiddenHollowMapleFarm.com
– Stop by to enjoy the educational and delicious process of turning sap into Adirondack maple syrup, maple cream and maple candy, made by two generations of the Wallace family.
3. Martin's Lumber & Lucyann's Crafts
280 Valley Road, Thurman
www.Martins-Lumber.com
– 100 acre certified tree farm with a bandsaw mill. Learn about sustainable forestry, view a selectively cut maple trees that indicate sugar tapping from the past, and observe a display of maple boards showing unique grains of sugar maple.
4. Nettle Meadow Farm
484 South Johnsburg Road, Thurman
www.NettleMeadow.com
– This goat farm & artisan goat & sheep cheese shop will provide farm tours, indoor cheese tastings & info on its cheese, animals & history.
5. Peru Llama Farm
661 High Street, Thurman
– This llama farm will open for farm tours. There will be games for kid & llama displays.
www.ThurmanMapleDays.com
6. Toad Hill Maple Farm
151 Charles Olds Road, Thurman
www.ToadHillMaple.com
– The largest maple producer in Warren County with more than 3,700 sugar maple taps. View a new energy-efficient sugarhouse and equipment demonstrations. Enjoy many maple products including: syrup, maple cream, sugar and candy, cotton candy, popcorn, coffee, tea, cookbooks and much more.
7. Valley Road Maple Farm
190 Valley Road, Thurman
www.ThurmanMapleDays.com
– View a new state-of-the-art sugarhouse that has 2,800 taps. Sugarmakers offer weekend pancake breakfast (beginning at 9AM) with pure maple syrup, as well as many products for sale including syrup, cream, candy, sugar, and cotton candy.
---
More Information on Thuman Maple Days: All Thuman/Athol tours are free and are town-wide (just six mile from Northway Exit 23, via NYS Route 418). You can follow signs and pick up a brochure with map at any of the sugarhouses. For more information on the Thurman Maple Days, including a brochure & printable map of the tour, visit: www.persisgranger.com/ThurmanMapleDays.htm
---
For more information on other New York maple sugar houses, click here.