The Lake George Arts Project, established in 1977, is a local organization that provides art programs and exhibits. Their Mission is to "provide exposure and income opportunities to professional and emerging artists and to provide quality arts programming for the residents and visitors of the Lake George Region."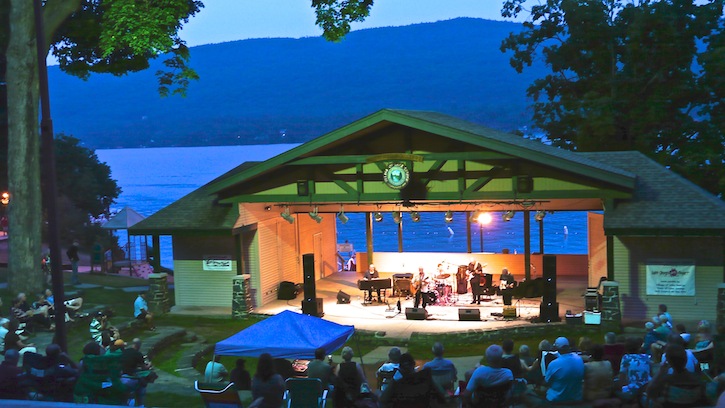 Enjoy the many Lake George Arts Project's programs & events:
---
Summer Concert Series
Weekly Wednesday night summer concerts (July & August) and other select dates, performed by various musicians performing in the Amphitheather in Shepard Park, Lake George Village. Lake George Arts Project Summer Concerts.
---
Lake George Jazz Weekend: September
Enjoy Jazz at the Lake! A popular annual weekend event (Saturday & Sunday in mid-September) with internationally acclaimed Jazz artists performing at Shepard Park's Amphitheater in Lake George Village.
---
Exhibits at the Courthouse Gallery
Works of emerging and professional regional and national contemporary artists (solo or small groups) in all media are exhibited at the Courthouse Gallery (the Historic Old County Courthouse) in Lake George Village. Lake George Arts Project Exhibits.
---
Special Programs
Other programs, presentations and concerts are presented throughout the year comprising of: jazz chamber music concerts, visual/writing/musical workshops, readings, and video presentations (including the "Peoples Pixel Project"). Lake George Art Project event/programs
"Peoples Pixel Project" – a video contest available to anyone within a 100 miles radius of Lake George. Categories include: music video, 14 years and younger, documentary, animated, experimental, narrative, and short shorts. Lake George Arts People Pixel Project
---
Fundraising Events
In order to continue the Lake George Art's Project's programs, including the Summer Concert Series and the Jazz Festival Weekend, there are several popular and creative annual fundraising events scheduled throughout the year. Be sure to attend the following events: "Bands and Beans" at the Roaring Brook (March); "Summer Sunset Cruise" aboard The Adirondac (June); Art @ The Lake (August); "Lake George Arts Project Golf Tournament" at the Top of the World Golf Course (September); and "Black Velvet Art Party" aboard the Lac du Saint Sacrement  (November).  Lake George Arts Project Fundraising Events.
---
Visit Lake George Arts Project website for more information on these wonderful programs and events.
Lake George Arts Project and the Courthouse Gallery are located at:
1 Amherst Street
Lake George Village, NY 12845
(518) 668-2616
www.lakegeorgearts.org