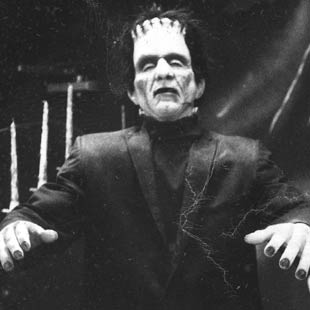 House of Frankenstein Wax Museum is Lake George's first wax museum and first haunted attraction. Since the early seventies, tourists have had their picture taken with the green faced monster before entering the dark recesses of the museum. House of Frankenstein offers a fun family time for those who like a "little chill" on a hot summer day, or want to "chill out" in the Fall. Our chills come from exhibits that create moments from the famous horror authors' tales by Shelley, Stevenson, Hugo and Poe. Also, each corner turned in the wax works is likely to give you an unexpected surprise.
For those brave souls that thirst for more of a frightening experience, House of Frankenstein's cousin, Dr. Morbid's Haunted House, only one block away, will surely to cause you to scream with delight.
The House of Frankenstein is located in the heart of Lake George Village on Canada Street (Route 9).
For more information, click on "House of Frankenstein" below. Also, click below to find more information on "Dr. Morbid's Haunted House."