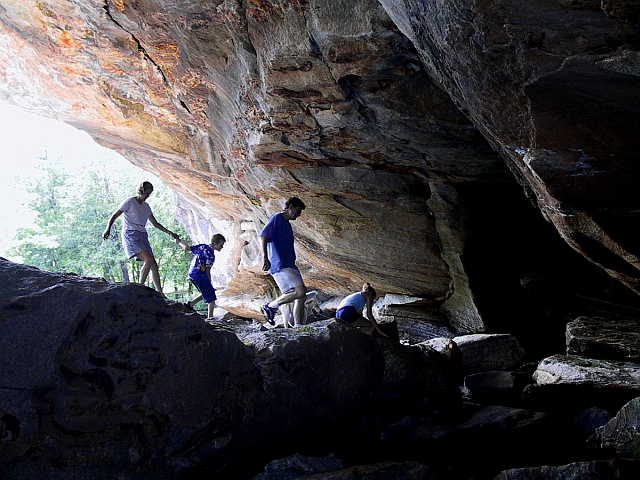 The massive stone bridge arch – the largest marble cave entrance in the east – dominates this spectacular display of Adirondack geology. Originally named Ponte de Dios (Bridge of God) by early explorers and later described in Morse's Geography of 1790, the stone bridge has captivated visitors for over 200 years.
These marble caves are different from the slow forming limestone caverns. They were rapidly formed during the last ice age by an unusual East-West trending fault which exposed a layer of ancient marble to raging acidic flood waters from melting glaciers.  So grab a walking stick, map, and camera and set out on a self-guided, above-ground, natural stone step nature trail and experience up-close the many unique rock features in the marble gorge, such as potholes, grottos, and mill site waterfalls.  You can also descend into lighted surface caves with raging waterfalls or tranquil dark pools.  Cavers are currently completing a survey of the cave systems and the owners have developed "Adventure Tours" to explore additional caves for those willing to crawl and get a bit dirty. The property continues to be managed by descendents of Jacob Van Benthuysen who received the site in the 1700's for Revolutionary War service.
Every year new hands-on activities are added to enhance the park.  After exploring the caves, relax in one of our large family swings or enjoy homemade fudge in our picnic/activity pavilions.  If you want to learn more, see our Adirondack memories display or view a free PBS video describing the history and geology of the caves.  Gold Rush, Crystal Quest & Gemstone Mining, Disc Golf, fish feeding, jewelry making, decorating walking sticks or uncovering ancient bones in our Dino Dig are fun activities for the kids. Over 14 miles of well-groomed Snowshoe Trails are available to explore in the winter, including views of the Stone Bridge.
The caves are easily accessed, only 2.5 miles off of I-87, Exit 26 at the end of Stone Bridge Road.  Just 23 miles North of Lake George Village.
535 Stone Bridge Road
Pottersville, NY 12860
(518) 494-2283
www.stonebridgeandcaves.com
Click here for more information on Natural Stone Bridge & Caves