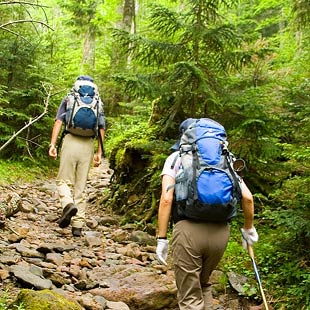 Take a hike or a nature walk and surround yourself with magnificent Adirondack beauty. Enjoy a leisurely stroll through wooded trails to find meandering streams, native plants, wildflowers and glimpses of wildlife; or challenge yourself to spectacular hikes with views that are unsurpassed. Undoubtedly, your time with nature will be memorable.  Scroll down to find information on nature and hiking trails in Lake George and the Adirondack region.
---
Hiking Trails in Lake George & Adirondacks
---
Blue Ledges
Elevation: 300 ft • Distance: 2 1/2 miles • Round Trip: 6 hours
Located on the Hudson River, the Blue Ledges offer a natural beauty of many colors rising up from the Hudson River. To reach the trailhead, take Route 28N about 2 1/2 miles north of Minerva to North Woods Club Road. Then proceed about 7 miles to the trailhead. Walk in about 2 1/2 miles to the Hudson River.
Buck Mountain
Elevation: Almost 2000 ft.• Round Trip: Over 6 mi. • Time: 4 hrs. • Map D-5
The lovely sight of the mountains and boats makes for an excellent hike.
Directions: Northway to Exit 21. Traveling on Route 9L along the east side of Lake George, turn left onto Pilot Knob Rd. for 3 miles, to sign. (Follow yellow DEC markers where indicated.)
Cook Mountain Preserve
The summit of this 200 acre-preserve provides great views of Lake George, the Champlain Valley, and Vermont's Green Mountains. The trail is a little over a mile to the summit and is a short, steep climb. Besides hiking trails, this 200-acre conservancy has two beaver ponds, historic grave sites, and much wildlife. A moderately difficult ascent taking about 45 minutes.  Directions: From the monument (traffic circle in the center of Ticonderoga) drive south on Lord Howe Street for approximately 3/4 mile to Alexandria Street (County Route 5). Turn left and then a quick right onto Baldwin Road for 1.5 miles to the Cook Mountain Nature Preserve on your right. Open until dusk, the trail passes some beaver dams and concludes in less than an hour to a splendid view of mountains and some Lake George.
Crane Mountain
Elevation: 3254 ft. • Round Trip: 3 hours • Map C-2
A delightful afternoon climb suited for the novice as well as the experienced hiker. The well-marked trail offers marvelous scenery. Directions: take Route 8 west to Johnsburg. Then south on South Johnsburg Road turning west on Garnet Lake Road at the "Crane Mountain Trailhead" sign.
Hadley Mountain
Elevation: 1175 ft.• Distance: 2 miles • Round Trip: 3-4 hrs. • Map G-2
A good open summit provides dynamic views of the Great Sacandaga Lake to the south; the Catskill Mountains beyond the lake; and Vermont's Green Mountains to the east. To get there, take Route 9N to Hadley and then 3 miles north on Stony Creek Road to Hadley Hill Road on the left. Proceed slightly over 4 miles to Tower Road. Then turn right for 1.5 miles to the Hadley Mountain trailhead. Follow the red DEC trail marker.
Inman Pond
Directions: Beginning at Exit 20 of I-87 (Adirondack Northway), proceed north on Route 9 past the Factory Outlets to the traffic light. Turn right onto Route 149 east for 6 miles to reach Buttermilk Falls Road. Turning left, drive 6 miles to the lower Hogtown Trailhead, located before Camp Little Notch – marked with the sign, CLN. Park on the right – somewhat north of the Butternut Brook Trailhead. Walking 1/2 mile west, turn right on a road just before a bridge. The Inman Pond Trail begins here. Along the way you will sight a floating bog and an abandoned beaver dam.
Prospect Mountain
Elevation: 1650 ft. • Round Trip: 4 miles • Time: 3 Hrs.• Map E-4
Directions: In Lake George Village, turn west from Route 9 onto Montcalm St. and proceed 5 blocks to Cooper St., turning right one block to West St., and then left one block to Smith St. where you turn left again. Up a short distance is an elevated walkway that crosses over the Northway. Great for picnics. A splendid panoramic view. Find more info on driving up Prospect Mountain here.
---
Nature Trails in the Adirondacks
---
Crandall Park International Trail System
Rt. 9, Glens Falls. Fishing pond, picnic area, tennis & basketball courts, baseball field, easy nature trails.
Dynamite Hill Nature Trail
Rt. 8, Chestertown. 1/2 mile, marked trail, picnic area. (518) 494-2722.
Gurney Lane Nature Trail
Gurney Lane, Queensbury. Two marked trails, picnic area. (518) 761-8216.
Moreau Lake State Park
605 Old Saratoga Road, Gansevoort.  Lake with sandy beach, campground, trails, boating, fishing, cross-country ski trails, picnic areas.  (518) 793-0511.
The Pember Nature Preserve
33 West Main Street, Granville, NY 12832. (518) 642-1515. Consists of 125 acres of forest, wetland and fields on both sides of Black Creek. Wind through the Preserve, marked by a system of blazes and wooded signs. Walk on elevated walkways, a footbridge and an observation platform to observe wetland wildlife. The Preserve is located on New York State Route 22, midway between Granville and Salem.
Pack Demonstration Forest
Routes 9 & 28, Warrensburg. 2500 acre environmental demonstration forest featuring 1-mile Grandmother's Tree Nature Trail, canoeing & fishing lake, mountain bike trail. (518) 623-9679.
Warren County Nature Trail System
Hudson Ave., Warrensburg. Adjacent to Hudson River with pleasant overlook. Unusual rock formations at river's edge. Novice to moderate trails. Brochure at trailhead parking. (518) 623-5576.