The Great Sacandaga Lake is one of the area's "best kept secrets." Created in the 1920's to provide flood control and hydro-power, it is New York's largest man-made lake — being 29 miles long with 125 miles of shoreline.
To create this reservoir, which was approved for construction in 1924, the Conklingville Dam was built at the northern end of the lake in the town of Hadley, capable of holding back some 283 billion gallons of water. More than 1100 parcels of land totaling 27,000 acres were purchased by the state of New York. Buildings and land in several towns were cleared by 1927; and what was not moved to higher ground was razed and burned by 1929. In the process, over 3800 graves from 24 cemeteries were exhumed and re-interred in 6 new cemeteries. With the dam gates closed in 1930, it took a year for the reservoir to be filled by the Sacandaga River. By the way, the name, Sacandaga, is an Indian term to mean, "drowned land."
While once called "The Sleeping Giant," the lake has become a popular, yet, relaxing vacation spot offering a safe environment for family fun. Visitors may picnic at several public parks or enjoy a swim at Sand Island. And for the serious fisherman, the sparkling clean waters offer a great opportunity to catch bass, wall-eyes and trout which are stocked each year.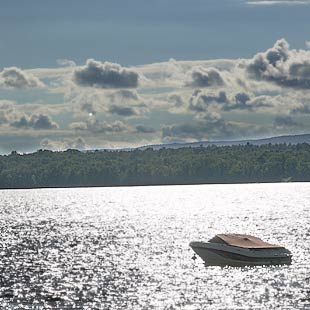 At the north end of the lake is the Majestic Mountain Marina — formerly known as North Shore Marine — a long established vacation spot dedicated to providing reliable rental services for families and fisherman alike. The marina offers pontoon boats for fishing and family boating to cruise along the lake's 125-miles of shoreline.
Unspoiled, picturesque, and easy to get to, the Great Sacandaga Lake is secluded in the foothills of the Adirondack Mountains. It is a welcome respite from the fast-paced crowd, no matter what the season.