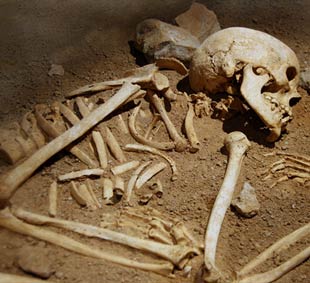 The Fort William Henry in Lake George, New York is the site of the battle of the 1750's French and Indian war and is a mecca for artifacts and clues to our nation's past. During the year of 1999, the fort held an archaeological dig within the fortress barracks from July 19th to Aug. 27th.
The dig explored 3 new sites that year. The primary site was the area where the original fort wall was discovered at the end of their 1998 dig. Site two was just outside the fort walls, a site that had not been examined in great detail in the past. The third site was split into two sections as the archaeologist explored the fort moat for the first time. Both site two and three were new sites and yielded new discoveries.
The dig was directed by Dr. David Starbuck, an archaeologist who specializes in 18th-century British military sites including forts and battlefields of the French and Indian War and American Revolution. At that time, Dr. Starbuck said, "this is a rare and unusual opportunity, and after digging at many other military sites, I'm delighted to have the opportunity to dig at the most famous British Fort of the French and Indian War."
Visitors to the Fort William Henry Museum were treated to what was deemed the best living history tour in the East. Guide-historians brought the tragedy of the Fort William Henry massacre and the story of the French and Indian War to life through a series of demonstrations and talks.