PLEASE NOTE: Due to the COVID-19 pandemic, Memorial Day parades and large group gatherings for early summer 2020 are being cancelled.
Please stay home and stay safe-for now.
We look forward to seeing you as soon as we get the all clear! Check back, we will be updating our website as decisions are made moving forward.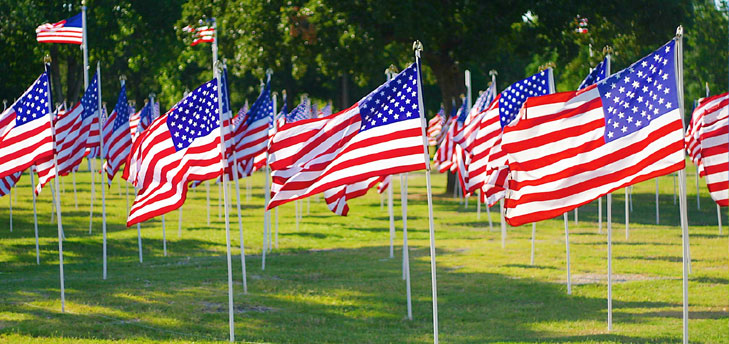 Friday, May 22, 2020
South Glens Falls & Moreau:
CANCELLED – Cookout & Parade – 4:30PM cookout at the Moreau Community Center at 144 Main Street. Feast on hot dogs & sausage while you watch the Parade on Main Street. Parade begins around 6:00PM at intersection of Main St., & William St. in the Village – down Main St. – turn right at Fifth St. – ends at Veterans Memorial Park, followed by a ceremony in the park. (518) 792-6007. moreaucommunitycenter.org  sgfny.com 
---
Saturday, May 23, 2020 …
Hague:
CANCELLED – Celebration, Parade & Service – 10AM-4PM. All day funfest with family activities, games, vendors, parade (2PM), memorial service for veterans (following parade), and HVFD chicken BBQ (3PM). Hague Town Park, Route 9N. (518) 543-6161. townofhague.org
Lake George:
CANCELLED -Parade – 11:30AM. Annual Saturday parade on Canada St. in the Village of Lake George.Starts on Westbrook Rd. (Also, don't miss the wreath laying ceremony at Battlefield Park, Beach Rd. at 10:30AM on Monday, May 30th). (518) 668-5755, (518) 668-5771, (518) 668-2045. lakegeorgechamber.com   lakegeorgevillage.com  warrenny200.org
---
Sunday, May 24 – Monday, May 25, 2020
Crown Point:
CANCELLED – Celebration – in Town of Crown Point (north of Ticonderoga). lakechamplainregion.com
---
Monday, May 25, 2020
Memorial Day 
Bolton Landing:
CANCELLED – Parade – 10AM. Rogers Memorial Park to Veteran's Park. Also visit the Bolton Landing Emergency Squad Arts & Crafts Festival over the weekend (Sat. & Sun 10AM-4PM) at Rogers Memorial Park. (518) 644-3831. boltonchamber.com
Brant Lake:
CANCELLED – Parade – 10AM. Horicon Town Hall. (518) 494-2722 (North Warren Chamber).
Fort Ticonderoga:
CANCELLED – Remembering The Soldiers – Salute the service of the United States armed forces, look back at soldiers of the American Revolution, listen to the Fife & Drum Corps perform, experience the life of the Continental Army soldier. Fort Ticonderoga in Ticonderoga. (518) 585-2821. fortticonderoga.org
Glens Falls & Queensbury:
CANCELLED – Parade & Remembrance Ceremony – 10AM-1PM. Parade down Glen Street to Crandall Park, followed by remembrance ceremony in Crandall Park at the Civil War Monument on Glen Street. (518) 615-0446. (518) 761-3751. visit.cityofglensfalls.com
Lake George:
CANCELLED – Wreath Laying Ceremony – 10:30AM. At Battlefield Park on Beach Road, join Fort George Alliance, an honor guard & the Lake George American Legion at the Grave of the Four Unknown Soldiers of the Battle of Lake George; tours of Battlefield Park available. (Also, don't miss the Lake George Memorial Day Parade on Saturday, May 28th at 11:30AM down Canada Street). (518) 428-5501. warrenny200.org
Lake Luzerne/ Hadley:
CANCELLED – Parade & Ceremony – 11AM. Parade starts at the four corners in Hadley, proceeds to the Hope Bridge for a wreath laying ceremony, and then up to Lake Ave. (9N) for a ceremony at the Lake Luzerne Cemetery. Refreshments to follow at the Lake Luzerne American Legion. (518) 696-3500.
* Schroon Lake:
CANCELLED – Tribute Service to Veterans, Music & More – Veteran's Memorial Wall at the Town Park, Dock Street; Schroon Lake is also celebrating their "Opening Weekend" during Memorial Day Weekend with many family fun festivities, entertainment, vendors expo, & garage sales. (518) 532-7737.  schroonlakeregion.com  schroonlakechamber.org
Warrensburg:
CANCELLED – Parade  – 9AM. Elm Street. (518) 623-9511, (518) 623-2161. warrensburgchamber.com
---
Friday, May 22, 2020
Greenwich:
CANCELLED – Parade – 6PM. Down Main Street (from the bridge at Washington St., up Main St., to Wilson St. & ends at the VFW on Abeel Ave.); sponsored by Greenwich V.F.W. Post #7291. (518) 692-7979, (518) 695-3149. greenwichchamber.org
---
* Asterisk refers to dates/ times that have not been confirmed yet. This page is updated frequently. Please check back often for any schedule updates. Schedules are subject to change.
– Looking for More Memorial Day Weekend Events?
Check out other events during Memorial Day Weekend on the Events Page.