By Judy Brown
Garnet Studio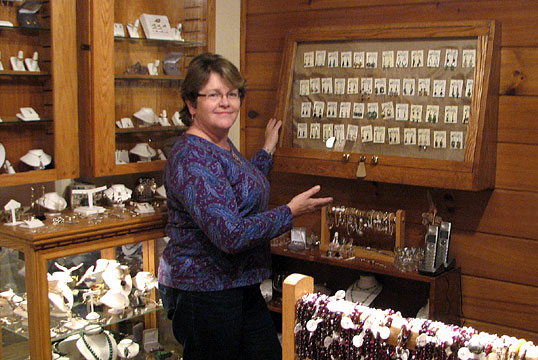 There is a shop in the Adirondacks that makes its own jewelry… and it's called Garnet Studio!
In 1971, Joe and Judy Brown were married. They had a love of rocks and minerals in common and their honeymoon trip was to The Grand Canyon with stops at rock shops along the way. Joe started teaching school that fall and Judy started to work for a dentist. Their first big purchase as a married couple was a faceting machine to cut Adirondack Garnets that they had collected over the years. Soon after, Judy took some classes to learn metalsmithing, and that was the beginning of a career in the jewelry business.
The Brown's own Garnet Studio in North River. They share their love of gems with anyone that comes through the door. The Shop is a small boutique and a fun place to bring your girl friends. Many a fashion show has taken place here. You can shop for that unique one-of-a-kind piece, or bring a group and learn to make earrings, necklaces or bracelets. If you are really adventuresome, Judy will take your group into her new cabochon cutting workshop and teach you how to cut a stone.
Joe facets mostly garnets, but they carry an amazing variety of other colored stones. A faceted stone is cut like a diamond (with small flat facets on the top and bottom). The purpose is to get sparkle or flash. Each stone has angles that need to be used to get the best response from the gem that you are working with.
Judy cuts the cabochons with a flat bottom and a domed top. They are done freehand on a stick called a dop. Opals, Lapis and other opaque stones are usually cut this way. The cutting agent that is used in both faceting and cabbing is usually a diamond (there are about 3-4 different grits of diamond). The stones are then polished with diamond, aluminum oxide, or other polishes depending on the stone's requirement.
Come visit. It will be quite a learning experience!