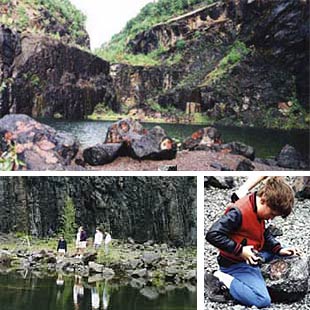 Treasure hunting at one of the most beautiful garnet mines… where the largest garnet crystals in the world are found. This garnet is treasured by gemologists, is used as an industrial abrasive, has been designated as the Empire State gemstone, and is popular as a January birthstone.
Besides garnet jewelry, great toys and gifts, the gem shop has exquisite garnet stones and beautiful raw garnet rock for fireplaces and landscaping.
A tour of the mine site includes a lecture about the geology, mining history, and present day operations. Fun for all ages – prospect and discover your own garnet gemstones!!! Strike it rich!
Only 35 minutes from Lake George.
Garnet Mine Tours
P.O. Box 30
1126 Barton Mines Road – off Route 28
North River, NY  12856
(518) 251-2706