The Original Lincoln Logs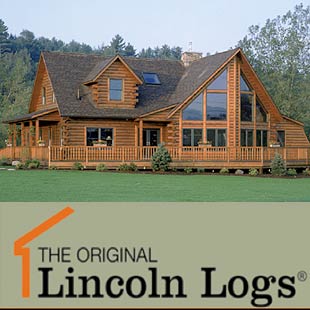 For those whose Adirondack dream envisions the warmth of a log home, Lincoln Logs Ltd. of Chestertown is the ultimate resource. The company has delivered over 10,000 log homes world-wide since its inception in 1977. Whether your plans call for a 350-square-foot hunting camp or a spectacular 9,000-square-foot mansion, the design department at Lincoln Logs will work with you to turn your log home dreams into reality.
Once the engineered design is complete, the company then creates a material package for a weather-tight shell. Many different sizes and profiles are available, along with several species of wood. In addition, homeowners can choose from several different building systems such as Log, Timber Frame or Lincoln's registered, Panelized Product "Thermo-Home®" so that our customers can select the system that's right for them.
Solid timber or log is a good choice when conveying the classic log home style, Lincoln Logs' panelized system can look like either logs or a traditional clapboard-sided house. Whatever your preference, we have a product to meet your needs. Log homes are very efficient because of their thermal-mass characteristics, logs store heat and release it back to the source, making them very energy-efficient performers during our cold North Country winters as well as keeping the home cool in the summer.
Lincoln Logs has relationships with several reputable area builders and realtors to help with land selection or construction of your new home. While the company's headquarters is in Chestertown, it has corporate sales offices in Lake George, New York and Auburn, California. Most sales, however, are generated through the company's nation-wide network of dealers. Call Lincoln Logs at 800-833-2461 or log on to their website.  Click below on "Original Lincoln Logs" for more information.