by Laura Traudt of Laura's Vintage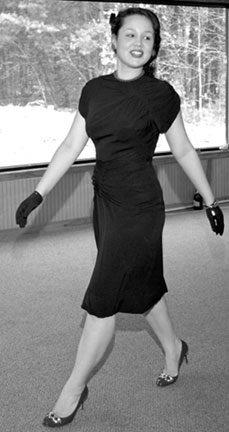 The stylish young woman uses imagination to mix new and vintage pieces to achieve unique and glamorous looks. Vintage clothing, accessories and vintage inspired pieces grace the pages of every fashion magazine, every month. You can use the images and advice to inspire you, but when building your own wardrobe with vintage and new clothing, it is important to keep certain things in mind.
Buy pieces that you know you will wear more than once. Think about the clothing and accessories you already own, and choose items that work well with your existing wardrobe. Dress for your body type; there may be certain styles you admire, but know that those styles might not be the most flattering for your figure. If you have more curves, you might consider a 1950's silhouette. Many of these dresses are snug at the waist and have flared skirts. These are perfect for anyone with an hourglass figure. If you are the tall and willowy type, the 1970's maxi-dress is perfect. The bright colors and bold prints from the psychedelic seventies are very popular now, and a tall girl can really look great in one of these dresses. If you are very slender and petite, the 1960's mini-dress might be the look for you; these dresses are fabulous on slim figures.
Be sure to choose colors and styles that flatter you. The dresses you buy should make you feel confident when you try them on. If you don't love the way you look in something, don't buy it; it will just take up space in your closet and you won't wear it later.
You can wear something as basic as the little black dress and add a vintage rhinestone necklace and a pair of little cotton gloves to make your outfit one of a kind. Wearing a vintage hat or a sparkling vintage pin is an easy way to add glamour to your look. Balance is always important. If your dress is basic, your accessories should be bold; and if your dress is the focus of your look, keep your accessories simple.
When shopping for vintage clothing, it is always important to consider condition. Something may be beautiful but if it is not in good condition, it is no bargain. Any reputable vintage clothing dealer will hopefully have done the work for you, but if they haven't, the cost of repairs and cleaning should be factored into the cost of the garment. Take your time and purchase pieces that are really right for you. Remember, it is always about having fun and looking good. When you choose classic looks and well-made garments, you will enjoy them for years to come.
Laura's Vintage carries ladies vintage clothing, costume jewelry, hats, bags and accessories.
Like Laura's Vintage on Facebook.
www.laurasvintageny.com
Photo Credit:  Paul Traudt