RockSport
Whether you are looking for adventure, spending a rain day, looking for an unusual gift, or want to throw a unique birthday party, RockSport has the answer. Indoors, RockSport offers 4,000 square feet of gentle challenges, intermediate terrain, as well as fierce technical problems for the expert. Families, groups, clubs, teams, as well as visiting climbers are all frequent guests here at RockSport. In this controlled setting, one can get their first experience in the "vertical world." Teenagers can safely push their limits on the overhanging walls, and families can learn to climb at their own individual pace.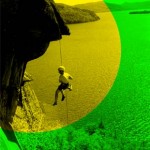 With the Adirondacks at our doorstep, why not spend a day outdoors at "our" crags. From the 500' Roger's Rock, rising from the waters of Lake George, to the 1,000' Wallface—we have the experience to make your vacation one you won't soon forget. There are also many smaller cliffs surrounding pristine Adirondack lakes where a day of climbing is followed by a refreshing swim.
Our staff at RockSport has over 75 years of climbing experience in the mountain ranges of the world—from the Himalayas to the Alps, from Africa to South America, we've been there. Our retail shop sells and rents gear, guidebooks, and has plenty of advice. Let us give you a day on the walls or the rocks while you are in the Lake George region.
Please click below for more information on RockSport.