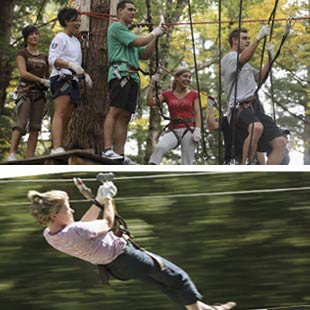 Outplay. Outlast. Outshine. Fun, freedom, and personal reward are what TreeGO at Adirondack Extreme is all about. The United State's first aerial adventure course became the Adirondack's newest attraction in 2007 and boasts 1.5 miles of exhilarating tree-to-tree, aerial adventures for every age and fitness levels. After being fitted into your harness, you'll attend a brief training session that will allow you to move through a series of surprising and progressively challenging obstacle aerial adventures. Ground patrol staff observe and guide you if needed.
There are 130+ obstacles offered on the six Adult Courses (12+), featuring cable bridges, tarzan swings, and zip lines allowing you to choose your own adventure and skill level. The Junior Adult Course is perfect for those aged 9-11 who meet a minimum reach requirement, the Kids Course has been designed for the smaller monkeys (7+) in your family, and our youngest explorers will enjoy the Squirrels Den Playground. Be sure to allow 3+ hours to complete the Adult Courses, and 1 – 1.5 hours for the Kids Course. Open April – November. Reservations are strongly recommended.
Directions from Lake George: off Exit 24 of I-87 (Adirondack Northway), exit onto County Route 11 and proceed 1/4 mile to Hendricks Road. Turn left onto Hendricks Road and follow the signs for Adirondack Extreme. I-87 is the fastest route. Do not rely on your GPS devices for directions. Located 10 minutes from Lake George. Click here for more detailed directions.
Adirondack Extreme Adventure Course
35 Westwood Forest Lane
Bolton Landing, NY  12814
518.494.7200