by Captain Joe Greco
Justy-Joe Charters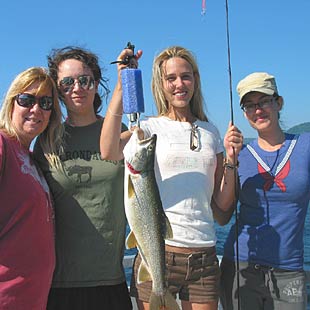 As an avid angler and professional charter fishing captain for over fifteen years, one observation that continues to excite the heck out of me is the increase in female anglers that we have seen in recent years. While I haven't seen any really recent statistical data on this subject, not too long ago I remember reading a report indicating that there are over 14 million women anglers in our country. In addition to recreational angling, we have also seen an influx of professional women anglers.
Some of my most memorable and exciting fishing excursions have involved female anglers. We presently offer fishing charters on Lake George and, to date, the largest lake trout taken aboard my boat was landed by, you guessed it, a female angler. I will never forget the day that 7-year-old Carla Suriano from Gansevoort, NY, landed the 28 pound lake trout while fishing with her dad. The fish put up a 45-minute battle and was eventually netted. Incidentally, the fish was so heavy that our net handle broke as we were bringing the fish over the side of my boat. Luck was on our side, however, as we were able to grab the net webbing and pull the monster fish into the boat.
Several years ago during a Lake George charter, I had a client land a 22 pound fish and a 20 pound fish on a single charter. What made this particular day even more special was the fact that the female angler, Irene Genitis, was in her early seventies at the time. Interestingly, Irene used to book a charter every summer, along with two of her older friends. More amazingly, after the charter the three of them would play nine holes at a nearby country club.
I have several other regular father/daughter teams that regularly fish with me, including Lou and Alex Tomaso, from Albany, NY. Alex and her dad usually book a lake trout trip and a bass charter each summer. Alex usually out fishes her dad and I, while out chasing smallmouth bass, resulting in her earning the nickname, "The Bass Assassin."
My favorite female angler of all times is my 22 year old daughter, Justine. Justine, who is affectionately referred to as "J-bird," started fishing with dear old dad when she was about 3 yrs old. As a youngster, I use to drag her all over the country fishing; and, when she was a teenager, she use to mate for me on my charter boat. She hasn't been out with me as much in recent years, as she went to college to become a schoolteacher and now teaches a first-grade class in Upstate New York. I will note for the record, however, that when she was home from college, she always made it a point to ask me to take her fishing.
We would usually go out for a few hours of bass fishing, as this was a great platform to catch a few fish as well as catch up on conversation. I have to admit that some of the best times that I have ever had with my daughter over the years were when we both had a fishing rod in our hands. For the girls in the world that love to fish, I would like to close with just two words, FISH ON!