By Kate Austin-Avon
Shirt Factory Manager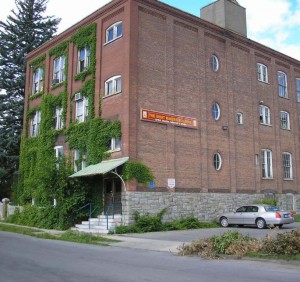 A visit to The Shirt Factory Arts and Healing Center in Glens Falls, New York is a must-do for art lovers, shoppers and lovers of all things locally-made. Shop, take a class, see artists at work, visit galleries, learn about local history and more! Quite possibly one of the area's greatest hidden gems, this historic shirtmakers' building is brought to new life as a colorful collective of shops, artist studios, galleries, classes, services and a healing arts community.
Built in 1902, The Shirt Factory was once home to the McMullen-Leavens Company, a nationally recognized manufacturer and distributor of finely-made shirts and dresses. The history is evident as you explore the building. Dips in the floors, old pipes, the freight elevator and an occasional needle or pin found in the floorboards are a reminder of the past. A display on the first floor showcases the building's dynamic story. The building is now vibrant with new creativity and imagination! There are more than 10 retail businesses and galleries located on the first floor of the building selling quilting supplies, tea, beading supplies, jewelry, framing, artwork, locally-made gifts, pottery, aromatherapy, yoga supplies and much more. More than 50 resident artists work in their studios at the Shirt Factory! At our loading dock entrance, you can find an interactive map showing studios that are open for visitors. Spend the day wandering the four floors of the building and grab a cup of tea, coffee or lunch at one of the first floor shops. Visit the modern Shirt Factory Gallery and Welcome Center to see a showcase of the Shirt Factory artists' work and purchase items from the gift shop that are made right in the building: Jewelry of all kinds, fine art prints, notecards, candles, cigar box guitars, bowls made from records, pottery and more. The Gallery is open from 11 a.m. to 6 p.m. on Thursdays, Fridays and Saturdays.
The Shirt Factory, at the corner of Lawrence and Cooper Streets in Glens Falls, New York, is open every day; but you'll find most of the first floor retail shops open at the same time on Thursday, Friday, and Saturday afternoons. Find a list of individual business hours and upcoming events online at www.shirtfactorygf.com and "Like us on Facebook" for more information.
We hope to see you soon!
---
* Also click below to find out more about The Shirt Factory