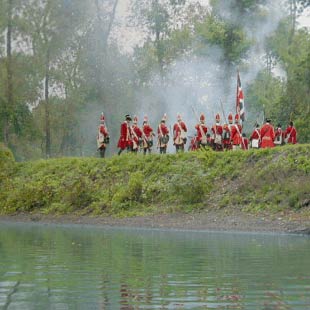 Fort Edward was once the largest British built military fortification on this continent during the French & Indian War. The island, directly opposite the fort, was the site of a large British encampment during the French & Indian War and the base camp for the famous Robert Rogers and 400 of his Rangers. The Visitors Center contains historical displays and archaeological artifacts detailing Fort Edward's earliest known Native American inhabitants through the Revolutionary War.
Tourist information available. No admission fee. Call for special programs and encampments.
Open daily: Sundays 1PM-4PM and Monday – Saturday 10AM-4PM (closed Mondays & Tuesdays September – May).
11 Rogers Island Drive (Rte. 197)
Fort Edward, NY 12828
(518) 747-3693
Click below on "Rogers Island Visitors Center" for additional information.