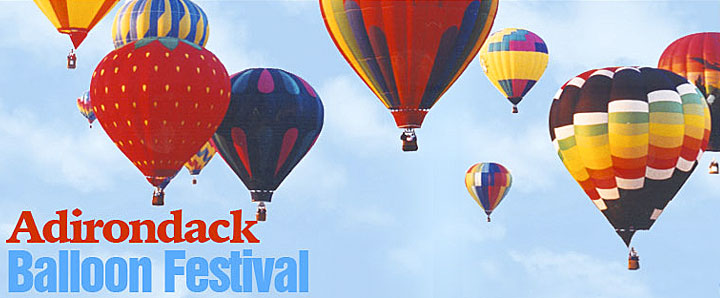 The annual Adirondack Balloon Festival, New York's Largest Hot Air Balloon Festival," is a four day event in September with over a hundred balloons held in Queensbury, New York at Floyd Bennett Memorial Airport (with special festivities happening at Crandall Park in Glens Falls and a special block party kickoff celebration in Downtown Glens Falls). 2013 will be the Adirondack Balloon Festival's 41st year, held on September 19-22, 2013. Each year, the festival is open to the public – free of charge. All balloon events are held weather permitting.
The first day of the festival begins with the Downtown Glens Falls Balloon Fest Kickoff Celebration & Block Party on Thursday evening – featuring opening ceremonies, entertainment, car show, hot air balloons, and activities in Crandall Park, Glens Falls and on Glen Street in Downtown Glens Falls. However, the hub of the Balloon Festival takes place at Floyd Bennett Memorial Airport in the Town of Queensbury. Experience the hot air balloons launch from the grounds of the airport on Friday, Saturday & Sunday. The opportunity to experience the launching of numerous multi-color balloons (up to 100+ hot air balloon) is so unique – so you won't want to miss out! Among the variety of balloons are special shape balloons, popular with both kids & adults alike. During the day, there will also be an array of other activities for the whole family taking place at the airport including: craft fair, kids activities, food vendors, aircraft displays, and entertainment.  In the past, the annual Moonglow was held in Lake George by the lake, which featured tethered glowing hot air balloons followed by fireworks at Battlefield Park; however the 2013 schedule does not include the Lake George Moonglow. Instead, the special Moonglow event will be taking place Saturday evening at the airport in Queensbury.
This is a must see event! Make the Adirondack Balloon Festival one of your Fall vacation destinations!
For additional information and a 2013 schedule of events, visit the official website:
www.AdirondackBalloonFest.org
Please click here for detailed information on last year's 2012 Adirondack Balloon Festival.