This Lake George Guide Area Map is the principal map that covers the expansive Lake George Region – including the Southern Adirondacks, Lake George, Queensbury, Glens Falls, South Glens Falls, Washington County, and northern Saratoga areas. Use this map to help locate destination spots, and for traveling around not only in Lake George, but points north, south, east and west of this centrally located place. North of Lake George, find southern Adirondack towns and villages including Bolton Landing, Hague, Ticonderoga, Crown Point, Schroon Lake, Blue Mountain Lake, Indian Lake, North River, North Creek, Brant Lake, Friends Lake, Thurman, and Warrensburg. Visit Washington County east of Lake George, to find Fort Edward, Greenwich, Whitehall, Argle, Salem, and Cambridge. Navigate west of Lake George to Lake Vanare, Lake Luzerne, Hadley, Town of Day, and the Great Sacandaga Lake. South of Lake George, visit Glen Lake, Town of Queensbury, City of Glens Falls, South Glens Falls, Moreau State Park, and the City of Saratoga Springs. This map also comprises of lakes & rivers, important roads & streets, the trolley route, and an auto mileage table indicating the mileage from popular cities to Lake George, NY. Find it all here in the Lake George Guide Area Map! Don't forget to click on the other local maps for a more detailed and focused view of Lake George, Queensbury/ Glens Falls/ South Glens Falls, and Saratoga Springs.
To print the Lake George Guide Area Map or view a larger pdf version, click on the image (below) or click here.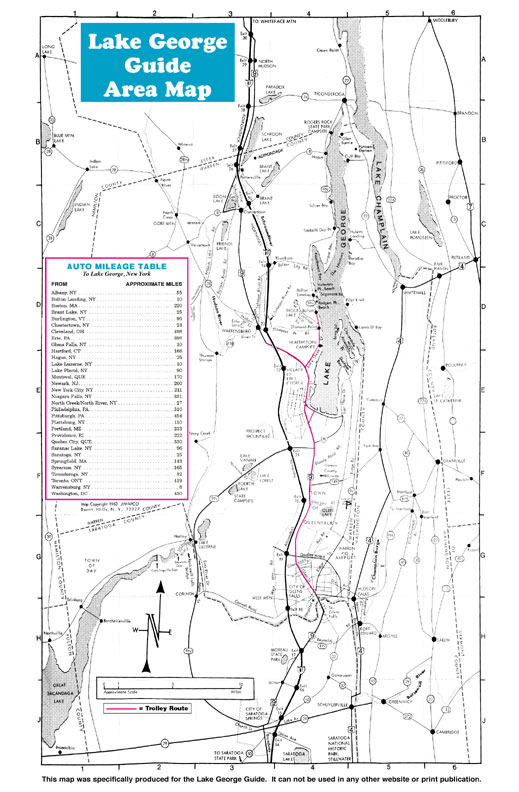 This map was specifically produced for the Lake George Guide. It can not be used in any other website or print publication.