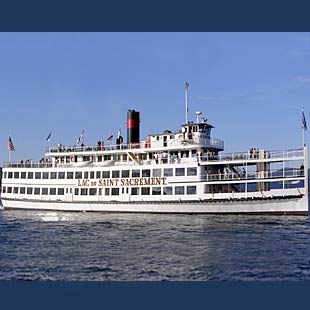 The newest addition to the Lake George Steamboat Company's fleet of excursion vessels is a modern dinner-dance showboat with the character and grace of 19th Century steamers. Designed as a 3/4 scale replica of the 2800 passenger steamer S.S. Peter Stuyvesant, Lake George Steamboat Company's Lac du Saint Sacrement is 190' in length with a beam of 40' and can accommodate 1000 passengers for sightseeing, cocktails and hors d' oeuvres and 350 for dinner and shows. The name Lac du Saint Sacrement in English is translated "The Lake of the Blessed Sacrement" given to our lake by the Jesuit Priest, Father Isaac Joques, who first came upon the lake on the eve of the Feast of Corpus Christi in 1642. Naming the lake in honor of the holy celebration, the lake retained its original French name until 1756 when the English won the French and Indian War and renamed the lake in honor of the king, George III, thereby calling it Lake George. The Lac du Saint Sacrement is built of all steel and to U.S. Coast Guard and American Bureau of Shipping Standards. She is propelled by caterpillar diesels, has all modern rescue boats, life jackets for every passenger, an emergency generator, and dual operating capability for its safety systems. No combustible furnishings are on board. It boasts four passenger decks, three of which are air-conditioned and heated. The vessel has a full galley, two cocktail lounges, a dance floor, snack counter, and a gift shop. The upper two decks are open for lounge chairs. There is a wheel chair lift between her first, second and third decks. Her single stack that measures 20' high and 7' across accentuates her stately appearance. The Lac du Saint Sacrement will certainly help carry on the company's 200 year tradition of fine vessels.
The Lac du Saint Sacrement is located at The Lake George Steamboat Co.
Steel Pier, 57 Beach Road
Lake George, NY  12845
(518) 668-5777, ext. 4
For more information on the Lake George Steamboat, Co – see below under Related Businesses; and to read about the Minne-Ha-Ha and Mohican (other cruise ships) – see below under Related Pages.