This section is all about kids having fun! Choose from a variety of things to do in the Lake George and Adirondack region including: activities and places kids love to explore; fun facts about this area and New York State; kids picks (kids telling kids what to check out); printable games, puzzles and coloring pages; and kids birthday party locations. Have a great time!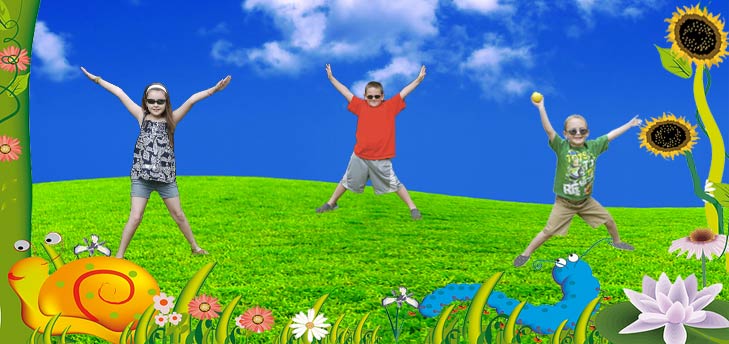 Hey Kids – Do you like to have fun? Do you like to run, swim, and play outside? Do you enjoy going to your favorite playground, or to the movies? Sure, all kids can do that. But, how about "super-sizing" your summer adventures to the max! What if you could go to amusement parks, beaches, arcades, forts, museums, rodeos, outdoor attractions, adventure courses, water parks and the zoo (to name a few); or how about if you could go boating, fishing, island camping, kayaking, miniature golfing, whitewater rafting, tubing, train riding, hot air ballooning, mountain biking, horseback riding, parasailing, waterskiing, tube sliding, and much more! Does all of that sound awesome! Well, guess what? You can do all of that and more in just one place… the Lake George Region! Kids love it here, and so do parents – because there is something for everyone to do and enjoy. Everyday, you can explore new adventures together. So what are you waiting for?
It's time to make the Lake George Region… your next exploration destination!!!
As you read above, there are so many fun things to do in the Lake George Region. Find out more information about these great activities and places that kids (and parents) will absolutely love.
Discover "Family Adventures and Explorations"…together!

There are many interesting and fun facts about the Lake George Region, the Adirondacks and even New York State. It's not just a gigantic playground for kids and adults, but this area has great historical, geological, geographical, and ecological significance. In other words? It's a really awesome place, in every way imaginable! Check out these facts and impress your parents, friends and teachers. Remember, learning is Fun!

Brady, Peyton, and Victoria are Lake George Region natives. That means they were born in this area and have lived here their entire lives. Sure, they may not be very old, but they certainly know how to have fun! Read "Brady's Picks," "Peyton's Picks," and "Victoria's Picks" to see what kids, like you, would recommend to do!

It's all fun and games! Here are some fun printable kids games & puzzles. Print these out and enjoy them in the comfort of your home, or bring themalong on the car trip to the Lake George Region! Find Word Search games, Word Scramble puzzles, a Maze, a Syllable Match game, and Coloring Page with Activities – all with the Lake George Region and Adirondacks theme. Have fun and good luck!

Celebrate your special day with an unforgettable birthday in the Lake George Region.
Choose from unique, adventurous, fun and exciting party locations.