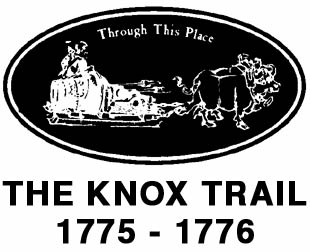 An epic journey in American history began here in the greater Lake George area. The story begins 200 years ago in Boston where General Washington laid siege to the British-occupied city. Both lacked artillery and the cannon he needed desperately was gathering rust some 300 miles distant.
Henry Knox was commissioned to transport the heavy ordnance in the dead of winter. The 25-year old Bostonian arrived at Ticonderoga on December 5, 1775 and four days later the fifty-nine cannons, howitzers and mortars weighing 60 tons were ready for the long trek through the lower Adirondack Mountains and over the Berkshires to Boston. Knox traversed the frozen surface of Lake George by the use of 'Battoes' and 'scows.' It was a week before they conquered the icy winds and frozen lake and reached Fort George at the head of the lake, in what is now Lake George Village. Here they waited for snow to cover and it was two weeks before the blizzard came which dropped over 24 inches of heavy wet snow! Knox commandeered some 124 pair of horses and a handful of oxen with sleighs to continue the journey overland to Boston. Through cold, snow, mud, and ice this "noble train of artillery" pressed onward and the first cannons were delivered to Washington at Cambridge on January 27, 1776. The cannons were used to fortify the heights overlooking Boston and were instrumental in forcing the British to evacuate the city on March 17, 1776. The cannons served in other battles of the American Revolution and were the beginning of the U.S. Army Artillery.
Road markers trace the path which Knox followed south from Ticonderoga. There are eleven such markers in this greater Lake George region, beginning with the one in Ticonderoga and continuing south to the high school at Fort Edward. Hop in your car and take an historic trip.