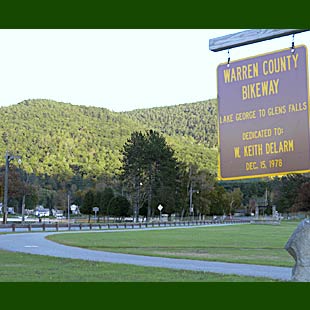 The popular Warren County Bikeway is a beautiful and safe 17 mile bicycle trail. The north end terminates in Lake George at Battlefield Park overlooking Lake George and the opposite and terminates in Fort Edward with views of a Hudson river yacht basin.
The trail is a smooth pavement that is ideal for joggers, cyclists, walkers, and any other mode of non-octane use dotted with signage highlighting historical attractions with maps, photos, and paintings, all for the purpose of acknowledging and honoring the heritage of Warren County. Its varying terrain affords a most pleasant variety of scenery, wildflowers, small animals, and even deer on occasion. You'll get a fair share of uphill and downhill slopes, over bridges, through woods, and past streams and ponds.
Bicycle riding is a wonderful leisurely sport the entire family can enjoy together. Besides the Warren County Bikeway, there are other scenic bicycle rides to try. But don't worry if you don't have a bike… there are plenty of reputable businesses that offer bike rentals. Click below to find bike rental shops, and other scenic rides.
Did you know that the Warren County Bikeway was once a Delaware and Hudson (D & H) railroad line? To find out about the History of the Warren County Bikeway, click here.