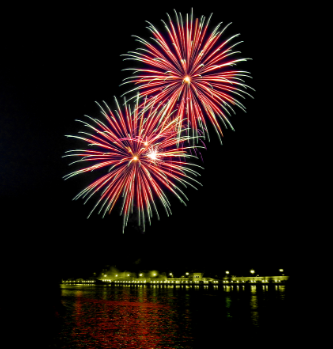 Find a list of scheduled 2018 Fireworks happening in Lake George and other Lake George Regional areas. Also, find information on Fireworks Boat Cruises on Lake George.
Fourth of July Fireworks:
For a full schedule list of Fourth July fireworks all throughout the entire Lake George Region, please visit the Lake George Guide's 4th of July Fireworks & Celebrations page.
Lake George Fireworks:
Enjoy a magnificent display of fireworks over Lake George, scheduled on Thursday nights in the Summer (July & August) and on other select dates throughout the year (including Winter, Spring & Fall). View these Lake George fireworks from Shepard Park on Canada Street and on Beach Road in Lake George Village… conveniently located amongst the village attractions, shops, restaurants, clubs & bars.
Fri., June 8 @ 9:30PM (Americade)
Sat., June 30 @ 9:30PM (4th of July Weekend)
Wed., July 4 @ 9:30PM (4th of July/ Independence Day Celebration)
Thurs., July 12 @ 9:30PM
Thurs., July 19 @ 9:30PM
Thurs., July 26 @ 9:30PM
Thurs., August 2 @ 9:30PM
Thurs., August 9 @ 9:30PM
Thurs., August 16 @9:30PM
Thurs., August 23 @ 9:30PM
Thurs., August 30 @ 9:30PM
Labor Day Weekend – Sat. Sept. 1 @ 9:30PM
Car Show Weekend – Sat. Sept. 8 @ 10PM
Festival for the Lake –  Sat. Sept.22 @ 9:30PM
Lake George Oktoberfest Fall Festival – Sat.October 6 @ 8:30PM
Lake George Fireworks Boat Cruises:
Take an enjoyable sightseeing boat cruise and watch the fireworks while on the lake. Choose from a variety of large & small cruises.
The following are large boat cruise companies that provide sightseeing fireworks cruises on their large vessels. Tickets are available in advance or as a walk-in.
The following are small charters that provides private fireworks boat cruise tours. Reservations in advance are required.
Other Lake George Area Fireworks
Find a list of other fireworks scheduled throughout the Lake George Region:
• Memorial Day Weekend Parades, Services & Ceremonies
• June 1-3, 2018…  "Cambridge Valley Balloon Festival" – A full Balloon Festival Weekend throughout the Cambridge area with an assortment of festivities including fireworks on Friday at the Cambridge Mansion Park on South Union Street, Cambridge. (518) 677-0887. balloonfest.wordpress.com
• June 20-23, 2018… "Annual Hudson Valley Firemen's Association – four day event with parades, music, entertainment, food vendors and Saturday Fireworks at 9PM. West Glens Falls Fire Company Station One – 33 Luzerne Rd., Queensbury. westglensfallsfire.com
• Area Fourth of July Fireworks & Celebrations
• August 27, 2018… "Thurman Monday Night Concert & Fireworks in the Park"/ 7PM Concert followed by Fireworks. Veterans' Memorial Field, Athol. (518) 623-9649. thurmannyevents.com
• September22, 2018… "Bolton Landing's Labor Day Celebration" – with music & fireworks/ 8PM. Rogers Memorial Park, Bolton Landing. (518) 644-3831. boltonchamber.com
---
* Please Note: This page will be updated frequently when more information is available and more fireworks are scheduled… so check back with us soon!