What better way to enjoy summer concerts and community entertainment than outside in the beautiful outdoors of the Adirondack region!  Bring a blanket or chair and take pleasure in various free al fresco performances! You will find these outdoor music concerts & shows all throughout the greater Lake George Region including: Lake George Village, Bolton Landing, Chestertown, North Creek, Lake Luzerne, Thurman, Glens Falls, Saratoga Springs, Ballston Spa, Greenwich, Salem and many other locations!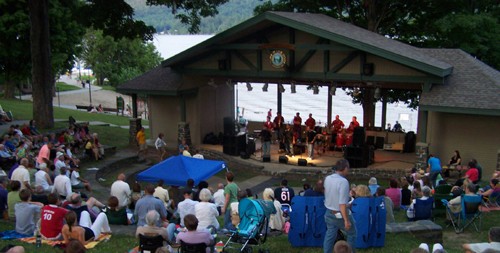 Lake George Arts Project's Summer Concert Series
The following summer concerts & community entertainment takes place (mostly in July & August) during the 2013 summer season!
Mondays:
Athol/ Thurman
"Concerts & Market in the Park" – live music & market with local artisans, gardeners and vendors/ 7-9PM (July & August 2013). Fireworks to follow concert on Mon., July 1, 2013. Veterans' Memorial Field, 311 Athol Road. (518) 623-9649. thurmannyevents.com
Glens Falls
"City Band and City Jazz Band Concerts" – enjoy music in the park with The City Band on July 1, 8 & 15 (July 22 is a rain date), and The City Jazz Band on July 29, Aug. 5 & 12 (Aug. 19 is a rain date)/ 7-8:30PM. City Park Bandstand, corner of Maple and Ridge Streets, Downtown Glens Falls. (518) 761-3867. cityofglensfalls.com
Lake George
"Musical Magical Mondays" – live music, magicians, jugglers, clowns, children's entertainment and bounce houses/ 7PM (July & August 2013). Shepard Park, Canada Street. (518) 668-5771. lakegeorgevillage.com
---
Tuesdays:
Bolton Landing
"Summer Concerts in the Park" – bring your blanket, snacks and relax for awhile/ 7:15-9:30PM (July & August 2013). Rogers Memorial Park, Lake Shore Drive, Route 9N. (518) 644-3831.  boltonchamber.com
Lake George
"The Incredible Larry" – enjoy a stunt comedy show while overlooking Lake George/ 7:30PM (July & August 2013). Shepard Park, Canada Street, Lake George Village. (518) 668-5771. lakegeorgevillage.com
Saratoga/ Stillwater
"August Music Series" – listen to music while enjoying the views on Tuesdays when the Saratoga Race Track is closed/ 12-1PM (August 2013). Battlefield at Saratoga National Historical Park, Stillwater. (518) 664-9821, ext 1777. nps.gov/sara
South Glens Falls
"Summer Concert Series"/ 6:30PM (June 25 – August 27, 2013). Outdoor Entertainment Center at South Glens Falls Historical Park (west side of Route 9 on First Street, adjacent to American Legion Post 553).  (518) 793-1455.  sgfny.com
Stony Creek
"Music in the Park"/ 7-9:30PM (July & August 2013). Stony Creek Town Park, corner of Lanfear and Harrisburg Roads. (518) 696-5949. stonycreekny.com
---
Wednesdays:
Greenwich
"Evening Summer Concert Series" – outdoor concert series sponsored by the Greenwich Lions Club/ 7PM (July 2013). Mowry Park Gazebo, Main Street. (518) 692-7528. greenwichchamber.org
Hague
"Music in the Park Summer Series" – bring your lawn chair for the performances/ 7:30PM (July & August 2013). Hague Town Park (Rain Location: Hague Community Center). townofhague.org
Lake George
"Summer Concert Series" – various bands and music sponsored by the Lake George Arts Project/ 7:30PM (July & August 2013). Shepard Park, Canada Street. Rain or Shine. (518) 668-2616. lakegeorgearts.org
---
Thursdays:
Ballston Spa
"Concerts in the Park Series" – enjoy a diverse line-up of musical performers/ 6-8PM (June 27 – August 29, 2013). Wiswall Park, Front Street. ballston.org
Granville
"Summer Concert Series" – listen to the musical talents of many top area groups/ 7-9PM (June – August 2013 but not on June 20, 2013). Veteran's Memorial Park, corner of W. Main & Quaker Streets. (518) 642-2640. granvillevillage.com
Lake George
"Lake George Community Band" – 65+ players performing classic marches, patriotic numbers, orchestral works transcribed for wind ensemble or band, and popular music/ 8PM on Select Thursdays (June, July & August 2013) including June 27, July 18, Aug. 1 & Aug. 8. The annual Lake George Festival of Bands is July 19-20, 2013. Shepard Park, Lake George. (518) 222-1302. lgcb.org
Lake Luzerne
"Concerts in Pavilion Park"/ 7PM (July 11 – August 8, 2013). Pavilion in the Park, Lake Ave., State Route 9N. (518) 696-3500. lakeluzernechamber.org
---
Fridays:
Hadley
"Music in the Park"/ Evenings on select dates (July & August 2013) – including July 12,19,26, Aug. 9, 23. Sam Smead Memorial Park, Stony Creek Road. (518) 696-4379, (518) 696-3112 x4. townofhadley.org
Lake George
"Fridays at the Lake" – various local bands showcasing their talent in front of a live crowd/ Evenings on select dates (June, July, August 2013) – including June 28, July 5, 26, Aug. 2, 9, 23, 30. Amphitheater at Shepard Park, Lake George Village.  (518) 668-5771. fridaysatthelake.com
Whitehall
"Music in the Park"/ 7-9PM (July 12 – August 23, 2013). Concerts at Riverside Veterans Memorial Park. (518) 499-4435. whitehall-chamber.org
---
Saturdays:
North Creek
"Music by the River Series" – enjoy music by the Hudson River/ 6-9PM on Select Saturdays (July & August). On the Banks of the Hudson River. gorechamber.com
---
Sundays:
Granville
"The Granville Town Band" – will be featuring area musicians performing marches & concert band selections/ 6:30-8PM (August 2013). Veteran's Memorial Park, corner of W. Main & Quaker Streets. (518) 642-2640. granvillevillage.com
---